Our Products
Here in overprint you can view our products.
Grapefruit coffee with great value for money Fantastic, in our coffee site we selected Italian coffee grinders that stand out for quality and excellence. The passion for coffee and all the related products is accompanied by constant research into product improvement and an indispensable attention in the care of its customers, ensuring seriousness, transparency and also a direct and fast relationship to solve any problems.
---
Coffee Machine
---
Details
19 bar high pressure pump, capsule ejection by manual; programmable filling quantity & coffee temperature; Detachable drip tray for big/small cup; Dropping system for expulsing capsule after suing; Detachable water tank 0.85L; Energy-saving automatic stand-by mode Fast heating up with special thermoblock heating system Elegant appearance design, AC220-240 / 50Hz 1100W.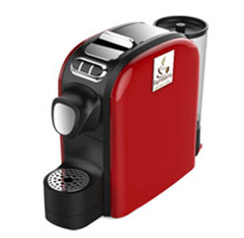 100% Italian Products
Coffee reveal all the uniqueness and goodness of a product that, amongst other things, is one of the symbols of Italian tradition: spotted or long, narrow or correct, is always phenomenal, the ideal way to end a meal or break.

This machine is one smart system that works with multiple capsules and waffles, you can see it on the right of this page!